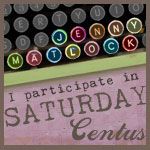 Mrs. Jenny Matlock's Saturday Centus: Week 18
-

(With an extra 100 words at the bottom of this post!)
This is a themed writing meme.
You can use UP to 100 words (not including the prompt) to tell your story. It can be fact or fiction. The only restrictions are: The prompt must be left intact AND you cannot split up the words in the prompt.
WEEK 18 PROMPT
It was a dark and stormy night.
It was a dark and stormy night. The lights went out, and I was alone with just my cat. The howling wind rattled and whistled through the old wood frame house. As if I were blind, I groped in the darkness to find the cupboard where I knew I kept the emergency flashlight, candles and matches. Lightning flashed and I saw that the cupboard was bare. Who has done* this? I asked myself as thunder roared outside. The cat meowed loudly out of fright, and I turned around and saw...
P.S. Scroll down to another 100 words!


*P.S. Sorry about my verb forms!
By popular demand, I am writing 100 more words:
...the glare of headlights. I could see them through the kitchen window. Someone is coming up the drive. Who could that be? At two in the morning? My nearest neighbours live miles from here. I heard a car engine stop. My cat weaved
nervously
around my ankles. I heard footfalls first crunching on the gravel drive and then on the wooden porch. The door bell was not working. Someone rapped mightily on the old wooden screen door. As my kitty hopped up and perched on my shoulders digging her claws into my knitted woolen sweater, I called, 'Who is it?'