Blue on Monday. I've posted this necklace before, but never listed it. But I will now.
This necklace is so light that it could blow away in the wind up here on my balcony.
Here's a close-up of the simple, but elegant sterling silver toogle clasp.
It looks like a blue glass fringe! But I like it!
It is very light-weight, made of cobolt blue pressed glass daggers from the Czech Republic and two sizes of cobolt blue seed beads.
Thank you for visiting!
Best wishes,
Anna
First Commenter:
Lourie of

Point and Shoot
,
CA Girl
and
Metabolism Blues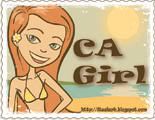 To see more Blue Monday posts please visit Smiling Sally's site.