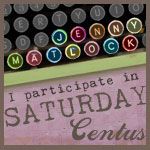 Welcome to week twenty-four of Saturday Centus.

STOP! If you didn't read the end SC's from last week, please take a moment to do so. Just work backwards until you find out where you left off. I feel really bad that the people at the end don't get read.

Thanks!

Now on to regular SC biz...In case you've forgotten...

This is a themed writing meme and a different challenge this week.

You can use UP to 100 words to tell your story. The prompt does not count for your 100 words AND it must be left intact in the body of your story. No illustrations are permitted. Your story can be fact or fiction, just keep it PG, please! I have to look at my Grandchildren with these eyes.

You have the entire week to link your work to the meme and you can link more than one story if you like.

Please display link button or just a hyper-link back to Saturday Centus. Be careful to link your SC URL to the Linky and not just link to your main blog.

I would suggest that since these are so short, if you can't think of a title just use your blog name as the title in the Linky.

Try to visit each one because there are some amazing writers participating in this meme. Since the links are so short they are also a fun and quick read.

Please e-mail me directly with ???'s or ask your question in a comment and I will do my best to get back to you as soon as possible.

This weeks prompt, contribute by the lovely Miss Anna is:

" "Trick or treat!" they shouted as the door opened..."

This is my SC-text:


The candles were lit in the jack-o-lanterns that stood waiting on the top step of the porch. Candy was portioned into paper bags on a tray by the door. The door-bell rang. She glanced in the mirror.

Was the make-up alright?




"Trick or treat!" they shouted as the door opened

, but said no more as the black-clad witch with the lime-green face and hands held out the tray and gave each child a paper candy-bag.
"Thank you" was quickly said, if at all, as they sped away.
Word count by
Word Calc
: 78

Best wishes,
Anna

First Commenter:
PJ of
Seens From The Backs Of My Eyelids



To visit more Saturday Centus week 24-posts please go to this site.

Visit my extra two SC 'Hammer-texts' here.