It is already the first of September and time to link a post to the

French Obsession

. I am doing a shorter post than I did for August. I was lucky to find these photos at all. Here are just three black and white pictures from a trip that my maternal grandmother (=mormor) and I made to Paris when I was a teenager. The first photo shows my grandmother standing not too far away from the Eifle Tower. You may notice that she has her arm in a plaster cast. This trip almost was canceled because of her broken arm.
But Mormor was very determined. In hinsight, it was probably good that she took the trip while she was still able to move about.

That broken arm was just the beginning of what was to become osteoporosis. And at that time, it wasn't taken that seriously. Eventually the bones in her spine pinched the nerves to her arms and she lost the use of her hands. She had constant headaches and other pain and discomfort in the last years of her life.

In this next picture with the two of us standing in front of the palace at Versailles, she is cleverly hiding her plaster cast-arm behind my back.
I think this trip qualifies as a French Obsession for several reasons. Originally it was my great-grandmother's obsession. She wanted to travel to Paris from Sweden with her only daughter, my grandmother/mormor,
right after World War I.
But this trip had to be cancelled because Mormor became ill with something and at that time there were no extra vitamins or antibiotics to help cure her. She was too weak to travel.
Long after her mother had passed away, my grandmother/mormor still had not made her trip to Paris, inspite of taking evening classes in French. But when I came along, she finally took that trip to Paris with me!
First Commenter:
Duni of
Lovely Purses

To see more posts for the
French Obsession
please go to
Le Chateau des fleurs by Frenchy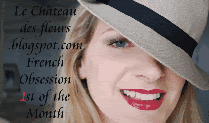 Thursday September 2nd, 2010
A little 'Pee-Ess':


I apologise for letting my grandmother's fragile bones take up so much space on this short post. The point of this story is that Mormor and I had a very good time. It turned out to be one of the few trips that we made together.

Paris is the capital of this incredible country, France, that has a long history, and a culture that has influenced the rest of the world in countless ways. I forgot to say what we did! We visited Versailles, yes, but we also when to the Lourves, where we saw, among many other important paintings, Leonardo DaVinci's Mona Lisa! We had coffee and pastries at different sidewalk cafés, walked along the Seine and visited a wonderful small museum that had medieval tapestries, Musee du Cluny. And we went shopping! We looked at this department store, the name of which escapes me now. Everything was so different and so BEAUTIFUL!

I can't remember if it was on our way to or from France, that we also stopped and looked at, among other amazing and beautiful things, tulips, in Holland. Mormor loved gardening. So we liked Holland too. But so far, I haven't found a meme called 'The Dutch Obsession'. So to all of you wonderful folks in the Netherlands, let me know if you have a meme called that and I'll write a post for that too.


Mormor did what she could to help, guide and inspire me. I learned so much from her.
Maybe I don't need to say this. But I'll say it anyway. I really miss Mormor.