(You see here the packaging for the DVD for
Råttatouille
, the Swedish language
version.This film has been dubbed into many languages.
The Swedish language version is very good.)
It is already August! For this month's French Obsession I would like to present a family film (for children seven years or older) called
Ratatouille
. Script writer and director, Brad Bird discribes
Ratatouille
as a story about 'The Impossible Dream'.
In order to make this film believeable, the film team travelled to Paris to take photographs and make sketches of different environments.
But circumstances change and the entire rat-colony must run away and use the sewer system to flee.
Remy gets separated from his family and winds up under the streets of Paris near the five-star restaurant that Remy admires most, Gusteau's. Here, Remy meets and is befriended by the restaurant's young busboy, Alfredo Linguini.
Linguini's boss sees a rat (Remy) in the kitchen, and orders Linguini to take the rat to a place far from the restaurant and despose of him. Linguini rides his bike to the river Seine, but cannot kill Remy. He lets him live.
First Commenter:
Ann of Ann's Snap Edit & Scrap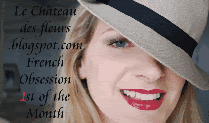 Om ni bor i Sverige köp den från CDON.COM
:
If you live in the UK please order it here:
If you live in the US please order here: